Based on our observation these days, we can pinpoint the majority of our children's tantrums are directly related to media.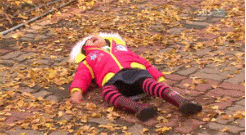 Lucky for all of us scientific studies have proven that a simple walk and experience with nature, is usually what the doctor ordered as a sure remedy.
A simple walk around the block has taught me a great deal about myself and parenting.
We do our children and entire family a great benefit when we choose to do a simple thing like take them on a walk. Walking is often overlooked but the benefits are many.
How many times have you taken your children to commercial indoor play area only to receive a flat response and in some cases disapproval for money and time spent?
Ironically, our children never want turn down or pass up an opportunity to take a stroll around the neighborhood, yet the end results are endorphin laden joy and excitement about life in general. We first picked up on this when we would notice our children getting moody or ungrateful particularly after an exceptional privilege.
Instead of lecturing or showing anger, I thought a walk would at least change their focus. The result after the labor and complaining were astounding. My children began noticing and becoming more cognizant and aware.
Wild turkey in area green spaces, impromptu races and our destination to a popular park with larger than life cartoon characters tops the outing, instantly changing mood and perspective.
A child's focus is one of the most precious gifts they have; technology has harnessed nearly every young mind with media enabling nature time to be an exciting alternative.
This is just our observation. Please let us know some of the things that you have tried, discovered or found to be the most effective for your situation and family tradition.